Do you know what happens every time I get addicted to a new browser game? I share that addiction with all of you! I'm very excited to share my latest addiction with you – Kingdom Rush.
Kingdom Rush is a free tower defense strategy game where you fight off hordes of enemies by building different types of defense towers. If you scroll down past where the game loads you'll find all the information you need to get started. They describe the game, as well as explain the objectives and controls.
The game begins with a thorough tutorial that I highly recommend. It will help you learn the ins and outs of the game much faster. And you'll play through a level to get the feel for the game. Tips will pop up on the right side of the page. You can skip the tutorial if you'd like by picking the skip this option.
Each round begins with a setup phase where you can spend your money and buy towers to prepare for battle when you are all set click the Start button (lower right side of the screen) or on the Enemy Wave indicator. After you defeat each map make sure you spend the stars you've earned on upgrades.
I've included a screenshot so that it is easier for you to see where things are on the game map. The area circled in orange is where you find your health, money, and how many waves you have left to fight. The area circled in yellow is where you can access the encyclopedia, pause button, and options menu. The area circled in light blue shows you where enemies are going to be entering the map from. The area circled in white are the spells that you as the player have control over. Namely, a fire spell and a call reinforcements spell.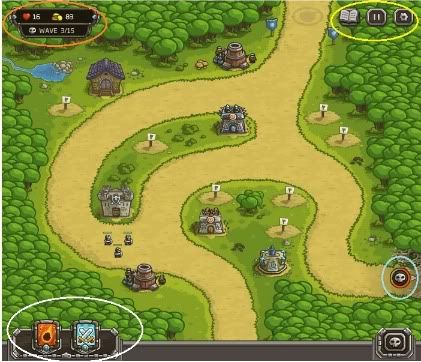 As you progress in levels you'll earn new abilities and types of defenses, as well as unlock achievements. There are thirty achievements for you to unlock so you definitely have more than just beating the game to look forward to. So far the most effective strategy I've found to clearing the maps is to build strong choke points with my barracks and then surround them with the ranged towers to rain down damage on the enemy forces. It certainly doesn't hurt that you can summon reinforcements every ten seconds either!
Remember you have been warned that this game is addicting! It's so fun though!
http://armorgames.com/play/12141/kingdom-rush
~Amanda

Tags: defense tower game, free game, strategy game