WorldStart Tech Tips 2015-11-27
Having trouble viewing parts or all of the newsletter? View the entire newsletter here!
In The News 11-27-2015
Google Relaunches Google +
Google + was supposed to be a Facebook killer, but despite mandatory membership (you had to have an account to access many Google services), it never did catch on. Now, Google is relaunching the service dividing it into two parts, "Communities" and "Collections."
Communities are simply groups that bring together folks with similar interest like literature or a hobby to talk about that subject. Collections pull together content aimed at a special interests. Google recently broke off Google +'s most popular feature, Photos, and also no longer requires that you sign up to use You Tube.
Facebook Wants To Help You Break Up
Forget calling your friends, Facebook is here for you in your time of need after a breakup. The company is introducing a new set of tools to help you call it quits. If you switch your status to single, you'll be offered the chance to make some changes to your profile.
If you're still friends with the ex, it will offer to let you see less of that person. You can also limit which of your posts your former honey can see and change your privacy setting if you choose. You'll also be able to go back and untag yourself from that persons posts and photos.
Windows Turns 30
The Windows operating system has not turned 30 years old. While it was announced in 1983, it didn't ship until late November of 1985.
It included familiar features like file manager, calendar, notepad, calculator and clock, Paint and Write, plus the Reversi game. It wasn't cheap either. It was $99, the equivalent of $221 today, which is roughly what Windows 10 pro would cost you today, if you aren't eligible for the free upgrade.
~ Cynthia
Click here to rate this tip | Printer friendly version
Have you EVER said to yourself: "Boy, I wish I knew what to do with all these USB ports!"
NOPE!
Everyone (and I mean EVERYONE) is always on the hunt for more USB ports. They're one of the most popular pieces of real estate on your computer... almost ANY device needs one nowadays!
You've got your mouse plugged in, a keyboard, your webcam, a card reader, a flash drive, an external hard drive, maybe a USB fan, your phone, your MP3 player, your GPS...
Whether it's charging, syncing, or updating... those ports are LOADED!
So you're crawling around, unplugging this and moving that, trying to get ANY port open so you can charge up your MP3 player.
ENOUGH IS ENOUGH!
You just multiplied a USB port times FOUR!
YEAH!
It just takes ONE USB port and makes it usable with up to FOUR devices.
That's practically magic!
You know why I love these things? I'm always taking my laptop on the go, but at home, I LOVE to plug in a real keyboard and mouse.
Instead of having to plug a bunch of stuff in every time I sit down... I just keep them plugged into my hub! And then, when I sit down, I plug the hub in and I'm good to go!
So you can always make sure your devices can plug in, no matter what angle or size they are!
YES!
But that's not all!
This hub is SPECIAL - it has tips for EVERY kind of USB device!
You see, some mobile devices don't use regular USB ports. They have "mini" or "micro" ones. If you have an MP3 player or older device, it might use the "Mini" type plug.
And your modern smartphones or tablets? They definitely use micro-USB.
NOW YOU DON'T NEED SPECIAL ADAPTERS OR CABLES!
This hub covers them ALL!
So you're getting 4 times the ports.
With all 3 types of modern USB connectors.
In a flexible, 'any angle you need' style.
And it just takes 2 seconds to plug in.
Could this get ANY better?
Duh - of course it could! YOU HAVEN'T SEEN THE DEAL!
These insane little multi-function hubs are ONLY $4.97!
Quick, the link is just below - click it to get in on this deal while supplies last!
http://store.worldstart.com/product/9785
You GOTTA head over to the store before Saturday - or else this sale will be over and these go up to $12.97!!
---
Henry from Chula Vista writes:
Stupid question ! Why is it that the new Microsoft operating systems are not made backward compatible ? We have invested many thousands of hard earned dollars in software that Microsoft makes obsolete. I believe that is the main reason why we hold on to XP. It's not because we don't like change. Microsoft should provide some sort of conversion program. I have been using Quicken 4 for Windows (32 bits) and Windows 7 (64 bits) can't use the many years of data.
Henry, actually a great many files are compatible even though operating systems and programs change. For example, most documents, even those dozens of years old can be opened using Word or other office programs. Most images in standard formats can be opened in any image editing program like Paint or Photoshop or Paint.net. The file I'm opening from my OneDrive below, was actually started in Word back in 1998.
According to the folks at Quicken, you can convert your data files for Quicken 2004 to the latest version of Quicken fairly easily if you upgrade from Windows XP. After transferring your old Quicken files to your new computer or copying the files you backed up to your updated computer, open your data files in your newer version of Quicken (one that's compatible with your new OS) and it should automatically ask you to start the conversion process.
If it doesn't find it immediately go to File menu > File Operations > Find Quicken Files.
You can then select all Quicken date files on the computer or just specific files. Click Find to start the search. In the Data Files Found area, select the file you want to open and choose open.
Quicken data can be exported to an Excel compatible format, which means they should open not only in Excel, but in other Excel compatible programs such as OfficeLibre.
Open the report you wish to convert and click Export Data in the Toolbar. Choose Excel Compatible Format as the file type and then name the file and save.
For a program like Quicken, which is made by Intuit, Microsoft wouldn't provide the conversion features, because they probably don't have the proprietary information necessary to convert the files. That information belongs to the maker of Quicken.
Actually, Windows is known for stressing backwards compatibility and trying help older programs run on more current versions of Windows, but at some point you end up trying to get parts for a 1979 hatchback to work in 2015 SUV.
On the website for Quicken, they say "Each version of Quicken evolves from prior versions. Over time, the core product changes drastically from the much older versions, which may cause problems when you upgrade to a newer version."
That's true for Windows as well. One strike against a lot of backwards compatibility for some older programs are current security features. Many old programs aren't compatible with modern security measures and it's unlikely that the developers of those programs would want to update them for free to keep them functioning. They would prefer that you buy newer versions of their programs with all the bells and whistles.
As more and more software programs switch to a subscription model, concerns about backwards compatibility may become a thing of the past as more programs become cloud-based and are constantly updated to meet changing needs.
~ Cynthia
Click here to rate this tip | Printer friendly version
Do you have a question for us? Ask it here!
Your Facebook Posts Will Now Show Up In Google Search
Google is stepping up its search game on mobile devices. When you search Google on an mobile device, you'll now see results for content found within apps. Google calls it "deep linking" and it's also known as app indexing.
App makers can now build this feature into their products and allow Google to return search results based on content inside their apps.
One of the first companies to get on board is Facebook. Public content from the Android Facebook app will now be included in search results on your mobile phone. That's just public content. Posts that are private will not be displayed. So, it's a good time to check those Facebook privacy settings.
Google has been pushing this app indexing to its developers for some time now, but Facebook is the biggest player to put it into practice.
If content is within an app that's not installed on your phone...
Click here to learn more about how Google will now be able to search apps.
Top Places To Look For A Virus
Viruses love to hide on your computer. Sometimes they sneak past your anti-virus or even disable it. Luckily, you can often discover the virus yourself by performing a manual search. It's a good idea to give your anti-virus a hand and perform a quick manual check at least once every few weeks. It usually takes less than 10 minutes and it could save you the hassle of dealing with a nasty virus after it's taken hold.
Add/Remove Programs
PUPs or Potentially Unwanted Programs are often bundled with legitimate software. The original software may have been downloaded from a non-official site or the developer might not have realized the additional software could harm your computer. Start by opening your Control Panel from your Start menu.
Choose Add/Remove Programs or Programs, depending on your operating system. If you don't see either option, select Programs and Features. This opens a list of all currently installed programs.
Scroll through the list and see if there are any programs that shouldn't be there. Research any programs through a quick Google search to see if they were preinstalled with your computer. Uninstall any questionable programs that you didn't install or that weren't installed by the manufacturer.
Select the program and....
Click here to learn more about tracking down a virus.
Friday Funnies
Black Friday
Shoppers on Black Friday will block and tackle better than your football team on Thanksgiving.
I miss the good old days when Black Friday was actually on Friday.
The day I can finally jump on the Christmas bandwagon with the rest of the nuts who started on Halloween.
It's a Steal!
Back in my poor college days when I worked at Walmart we had a fight break out over a bike on Black Friday.
Fists were thrown and there was some blood.
Eventually one guy got ahold of it and managed to get away from the crowd.
He rode the bike out of the store to flee his pursuers (without paying).
Hmmm...
Daily Thoughts
"Good friends, good books, and a sleepy conscience: this is the ideal life."
~ Mark Twain
"Many people lose the small joys in the hope for the big happiness."
~ Pearl S. Buck
"Be content with what you have;
rejoice in the way things are.
When you realize there is nothing lacking,
the whole world belongs to you."
~ Lao Tzu
Risking Everything

One of the awesome parts of my jobs at the Wisconsin Historical Society (WHS) is working with primary source materials from the archive. One of the people in my cohort also works in the same department as I do at the WHS and got to work with the materials from the Freedom Summer project.

The Freedom Summer project was "an effort by civil rights activists to integrate Mississippi's segregated political system. Northern volunteers and black Mississippians risked their lives to overturn racist institutions" according to the Wisconsin Historical Society's page. I would suggest clicking About to learn more information on this exhibit and how the education goals they had for the students the exhibit was designed for.

It's been interesting to be able to look at the documents first hand in the work room, so I was curious and looked to see what was online about the project. I discovered that when they did the exhibit, the WHS also created a Tumblr account for the project. That's the site I'm sharing with you today.

It's very cool to see how primary source materials can be turned into such a wonderful educational resource. You'll arrive to the site on the section Exhibit. All you have to do is scroll down the page to see what was on each banner.

I've already talked about the About page, but you should also check out the Photos section to see photographs from the events that hosted the exhibit and the For Teachers section offers free lesson plans.

Go check it out for yourself today!

~Amanda

Click here to rate this tip | Printer friendly version

Do you have a cool, non-commercial site that you want to share?

Send it to Amanda at amanda@worldstart.com


Hey Guys!!!
We've been getting so many emails from readers about which guide you should buy to help you make the best of your new tech. So we went ahead and put them ALL IN ONE PLACE - ALL IN ONE CONVENIENT FILE!
You get 6 of OUR BEST GUIDES that have everything you need to know about the latest tech toys!
So let's say you've got an Android tablet and your spouse gets an iPad for Christmas. Two totally different operating systems. One guide just won't cut it. BOOM! This guide is everything you need to know about BOTH tablets!
The Android guide is 134 pages plus VIDEOS and step-by step graphics to help walk you through your Android experience. The iPad & iPhone guide is 151 pages full of EVERYTHING you need to know to navigate your iPad! Both written in easy-to-understand everyday English with helpful full-color images! So, no matter which device you've got… THIS GUIDE HAS YOU COVERED!
You also get "The Ultimate Electronics Buyer's Guide"! Yeah!!! This guide will help you buy all those cool electronic toys that you've been drooling over. So maybe you've been eyeballing that super expensive SLR digital camera, but have no idea what to really look for to get the best bargain. Problem solved! You'll be a savvy consumer when it's time to purchase big-ticket items.
Now that you have those electronics, it's time to make the most of them!
You'll also get our Ultimate Social Media Guide! Learn all about how to stay in contact with family and what the big deal is about social media! You'll be Facebooking and Tweeting before you know it! Heck, this guide is so good that your kids will be asking you for help!
But I am not done YET! You'll also get Amanda's Cool Sites 2014 and WorldStart's Smart Home Exclusive! Amanda take you to the best places on the Internet. You'll visit hundreds of sites and learn how to get free music, books, games and more! Our Smart Home Exclusive answers all your questions about high-tech homes!
You'll get all those guides in ONE! No more wondering if you need this one or that one… WE PUT THEM ALL TOGETHER JUST FOR YOU – FOR CHEAP!
For Just $12.97 You can have all these guides!!!
This guide is SERIOUSLY an EXCLUSIVE and won't be available for long… So go ahead – TAKE THE WORRY OUT of your electronics and click the link below to download yours today!
http://store.worldstart.com/product/10708
---
November Wallpaper Is Ready
The featured desktop wallpaper for November is all set and ready to go. And remember, there are hundreds of images to choose from on the site!
All can be found here and are 100% free:
http://www.backcountrygallery.com/wallpaper/
Oh, and if you enjoy these images, please tell your friends!
Miner's Falls In Autumn

I normally eschew mid-day landscape photography, particularly when the sun is glaring savagely in a bright blue sky. I just never like the stark contrast of light and shadow it tends to create in most photos. However, this image proves there are always exceptions to the rules – although I never intended for it to play that role! When I left the trail head, it was …(More)

Doe Along A Fence

This image was captured during the first big snow last winter (2014). I can't resist getting out and doing some photography when those big wet flakes are falling early in the season (different story as the winter wears on :) ), so I jumped in the truck and headed to my local park. The snow was magnificent and eagerly stuck to the trees, branches, and even animals. The park was nearly covered in...(More)

Polar Bear Break Time

This lovely lady was wandering along the shores of Hudson Bay near Churchill, Canada when we spotted her from our Polar Rover. We quickly backed to her position – and she decided it was time to lay down and take a break! She would occasionally look around, check us out, lay her head down, look the other way, and so forth. So, we'd wait on the back of the Polar Rover (in -30F windchill) and wait till...(More)
For these and other great selections of desktop wallpaper, head to:
http://www.backcountrygallery.com/wallpaper/
As always, the wallpaper is 100% free, so enjoy!
---
Attention All Wildlife Photographers!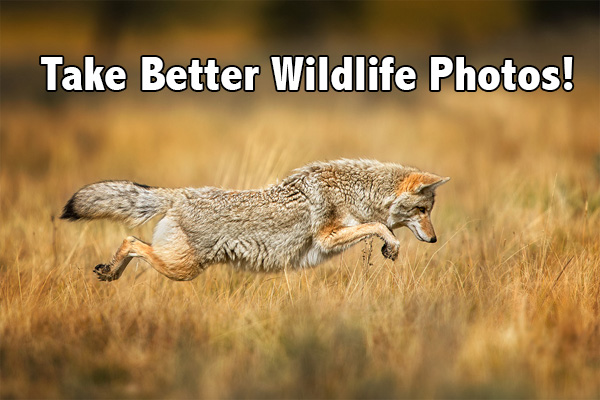 We are officially into wildlife season - it's time to grab my book at see why people are saying things like...
"Your method of explaining is just too good; you are not afraid to say that such and such normally accepted method is wrong; you are precise and to the point. Very few authors write in such a wonderful way."
"This book is very well written, easy to follow and wish I had it available when I first started wildlife photography 5 years ago."
"The StSWP is, for me, a masterpiece. The photos in the book are truly stunning and your style of writing is very easy going and a pleasure to read."
"I found this publication to be very informative and helpful. For me it cleared u.p a lot of gray areas that I wasn't sure of where wildlife was concerned. I'm going to re- read it as I want to make sure that I didn't miss anything lol."
"I just purchased your e-book, "Secrets to Stunning Wildlife Photography" and I must say it's an excellent resource and very informative. Furthermore, I have watched every video on YouTube on your channel. Clearly you know your stuff and I feel privileged to have stumbled across your channel so I can learn from you."
"I just downloaded your "Secrets to Stunning Wildlife Photography" book. I really enjoyed reading your take and experience on photographing wildlife. I know I will benefit from it tremendously."
"Two minutes after opening the Ebook I was ready to nominate you for a Nobel Prize in technical writing (not sure if they give one like that.) Stunning is precisely the correct word to describe both the images and text found in your book. A job way past Well Done!"
"Your Secrets to Stunning Wildlife Photography is an excellent book! Easy to read and very informative. Thank you for sharing your knowledge through your book, your videos, and your absolutely stunning images."
And those are just a small fraction of the comments you'll see on the testimonials page - check it out!
Bottom line - Secrets To Stunning Wildlife Photography, has everything you've ever wanted to know about wildlife photography in one place! Learn how to take your wildlife photography to the next level with this comprehensive 290 page e-book.
Find out why thousands of photographers have already ordered theirs (and see what they think here).
http://www.backcountrygallery.com/secrets-to-stunning-wildlife-photography/
---
Photography Tips - Step By Step Videos!
Is it time to improve your photography? Check out my YouTube channel - loads of helpful photography tips with more added monthly (more or less).
http://www.youtube.com/user/backcountrygallery